This is a brand new website. We appreciate everyone's patience while we load images of products. Thank you so much!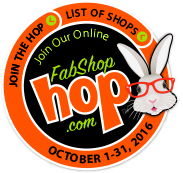 The October FabShop Hop has launched. For the month of October, the Bunny is checking out the harvest of

new wool

available at the Shoppe for her seasonal projects.

Upcoming Autumn Events at the Shoppe!



* Harvest & Stitches Shop Hop October 8 through October 22, 2016


Extra Hours during this event Sunday October 9 & October 16 12pm-4pm



* Wooly Block Adventure October 15 through December 15, 2016


(a new experience from the creators of the Row by Row Experience)